Equestrian Services
Equestrian Services
With our head office near the horse racing and training hub of Newmarket, we are perfectly placed to cater to the needs of some of the most prestigious names in flat racing. We have created high specification gallops, equestrian arenas and training grounds for the Jockey Club and other leading names in the flat racing fraternity, along with the ever growing endurance racing. But that's only one part of what we do. We also love to meet the needs of hobby riders and create surfaces and facilities that support them every step of the way.
Every Riding Surface is Catered For
Whatever the ambition, or the day-to-day requirements of your riding surface, we're committed to designing and installing the best solution. Whether it's endurance tracks, parade rings, gallops or lunge rings, we take the time to understand the goals of the rider and the needs of the horse. Only then do we think about the most appropriate surface type for you.
We have strong links with leading suppliers of synthetic riding surfaces in the UK and the US and can arrange the mixing of various finished surfaces. We also have extensive experience providing the highest quality for woodchip training gallops and constructing the gallops themselves.
As well as riding surfaces, we can install practical infrastructure such as access roads, pavements,
drainage systems and soakaway schemes. That, coupled with our vast array of machines and equipment, ensures a best in class solution on almost any site.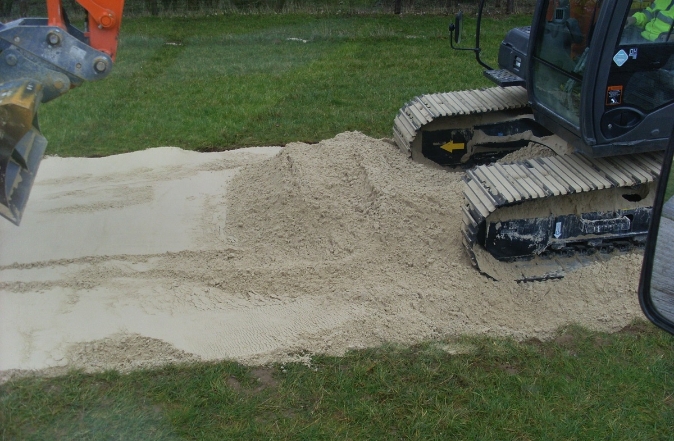 Equine Facility Design & Build
It's not just the surfaces that we've got covered. Our equestrian services also include the planning, design, build and project management of everything from world-class facilities to hobby riding essentials. We understand the problems that hobby riders face when keeping horses and, regardless of the scope of the project, we can tailor a solution to suit your budget.
From conception to completion, we design and install the following equine facilities:
Horse walkers
Lunge rings
Ménages
Indoor and outdoor arenas
Endurance tracks
Gallops
Stabling
Walkback tracks
Parade rings
All aspects of fencing
Rubber block paving
Muck bunkers